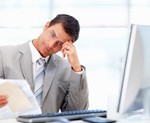 How often are we at dinner with our friends, or grabbing coffee with a co-worker, when an idea strikes us… Wouldn't it be great if there was startup company that ______? There should be a startup service that______! Why can't they just add ______ to _______, I would use that all the time!
What should be your first step? (Besides a killer algorithm that isn't buggy, of course)
First – you must think of a startup name! A name that grabs the user, but also encapsulates the idea of your product.
Thought of a startup name? Dreaming of the way the logo will look like as Apple's Featured App of the Week?
Not so fast… you must make sure that you have the right to use the name in connection with your product and brand.
There are several things you can do in the comfort of your own home, to check whether or not a name is available to use.
Trademark Search 
A simple trademark search will let you know if you will be able to trademark the product and use the startup name and logo in commerce.  You can conduct a trademark search on the www.USPTO.gov.
State of Delaware – Division of Corporations
You may use the Delaware Division of Corporations Entity Search to check if the name of your corporation is available. The name of your corporation cannot be the same of the name of any other corporation, although slight variation in the name is perfectly acceptable. You can conduct the search here:
Internet Presence 
Once you have figured out what the name of the corporation will be, it's wise to reserve the name of your new corporation as a domain on https://domize.com/.
If you would like to setup a free consultation with an experienced business attorney, please reach out to us at Sutter Law.