Venture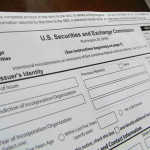 Capital, Investments and Form D
Startups and Privately held companies that are raising capital investment are required to register with the Securities and Exchange Commission, or file a Form D with the SEC to declare an exempt offering of securities.
Form D is a notice that a Startup company is issuing an offering of securities that is exempt from registration with the SEC.
Using Form D, a Startup company discloses information about the company and the offering to the SEC.
This information includes names and the addresses of the Startups  executive officers, the size of the offering, and the date of the first sale.
The form can be found here (https://www.sec.gov/about/forms/formd.pdf)
Form D must be filed within 15 days after the first sale of securities in the offering . The date of first sale is the date on which the first investor is contractually committed to invest (ex: the date the Startup receives the investor's subscription agreement or check).
The form is filed online, for free, using the EDGAR system.
If you would like to set up a free consultation with an experienced San Francisco business attorney, please reach out to us at Sutter Law Firm.